You are here

Global Market Viewpoints: Third Quarter 2019
Global Market Viewpoints: Third Quarter 2019
Submitted by Castlebar Asset Management on October 21st, 2019
Stocks outside of the US pulled back in the quarter. Growing concerns over the impact of the US-China trade war weighed heavy on investors' minds. Several major economies are on the brink of seeing a second consecutive quarter of negative growth. This is a common way a recession is defined. Recession fears are heightened due to the contraction taking place in the manufacturing sector globally. Negative interest rates continue to muddy the investment outlook as well. Over $16 trillion government bonds around the world have a negative yield. The US Dollar strengthened against a basket of global currencies modestly this quarter.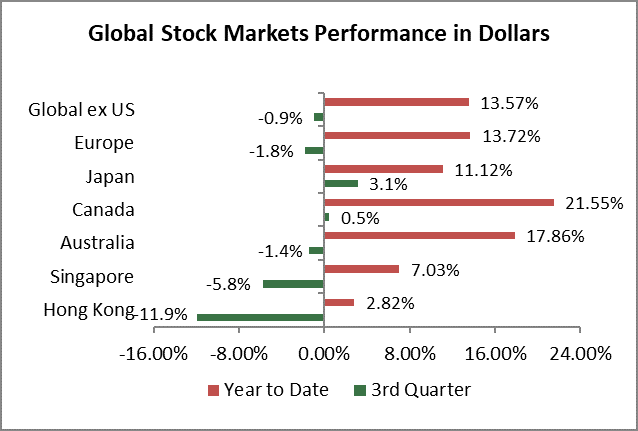 Europe
Europe is experiencing a significant slowdown in its manufacturing sector because of the trade war between the US and China. The biggest manufacturing economy in Europe is Germany. About 20% of German GDP is tied to manufacturing and it is down about 8% from its peak. Since Germany is the largest economy in Europe there is a ripple effect across other economies on the continent. The European Central Bank (ECB) is responding to the slowdown in Europe by restarting its bond buying program and cutting benchmark rates further into negative territory. The ECB is planning to buy 20 billion Euros worth of bonds each month starting in November. This has had a limited impact in the past and it will be interesting to see how the bond market responds given that many European government bonds have a negative yield. A negative yield on a bond is when you purchase a bond and if you hold it to maturity you are assured to have a loss. The new stimulus plan was the final action taken by outgoing ECB President Mario Draghi.
The headwinds in Europe are pretty easy to see. The markets however are pricing in a lot of bad news. Corporate earnings expectations are low, and valuations are below their historical averages. The forward P/E is trading at 13.7x compared to the long term average of 14.3x. Price to book is also trading at a deep discount to historical averages. Valuation should offer some support if the macro environment does not improve.
Brexit remains an unresolved issue. The next deadline is October 31 for an exit, but the conventional wisdom is that the UK will ask for another extension from the European Union. The probability that the UK will leave the EU without a deal, sometimes referred to as a hard exit, remains low but is not zero. This is the largest political risk in Europe, but investors have had over three years to plan for nearly all outcomes. We do not expect this to be resolved before the end of 2019.
Japan
Japan was one of the few international markets to post a gain this quarter. While stocks moved higher the same macro issues impacting other economies are affecting Japan. Manufacturing sentiment is the weakest it has been in six years and exports have declined for nine straight months. Trade issues and a stronger yen are the primary reason for these struggles. Japan also imposed a 2% increase to their valued added tax on October 1. Some economists are predicting that Japan could see negative growth rates in the fourth quarter because of the tax increase. The government has created a rebate system to soften the tax increase for consumers who use a credit or debit card instead of cash. We are more optimistic about the Japanese economy and think there are several catalysts in 2020 to be excited about. Spending before the 2020 Tokyo Olympics is in full gear and profit estimates are reasonable and should be easy for companies to beat.
Canada, Australia & Asia
Stocks in Hong Kong had its worst quarterly performance in four years. Concerns over a slow down in the Chinese economy and ongoing protests in the city weighed returns. We do not have any holding in Hong Kong at this time. Canada managed a small gain in the quarter. The Canadian economy has seen better than expected performance as the real estate markets remain strong. Australian markets pulled back 1.4% in the quarter.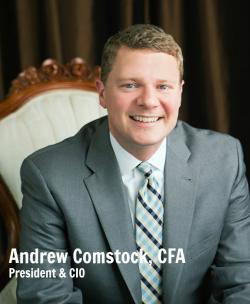 Please contact me at 913-871-7980 or by email to discuss your financial planning and investment management needs. You can sign up for our monthly newsletter here. Follow me on Twitter @CastlebarAM.
Disclaimer: The opinions voiced in this material are for general information only and are not intended to provide specific advice or recommendations for any individual. To determine which investment(s) may be appropriate for you, consult your financial advisor prior to investing. All performance referenced is historical and is no guarantee of future results.