You are here

Global Market Viewpoints: Second Quarter 2019
Global Market Viewpoints: Second Quarter 2019
Submitted by Castlebar Asset Management on July 25th, 2019
The momentum for the first three months of the year carried over into this quarter. Stocks largely brushed off the growing list of concerns to have their best first half of the year since 1998. Global stocks have not reached all-time highs like their US peers, but are only 6% from previous highs. The return of central bank stimulus served as a spark for the markets. Central bankers around the world pledged to become more accommodative through interest rate cuts or new asset purchases in response to slowing economic data. The US Dollar weakened during the quarter against most currencies, which helped your portfolio's performance.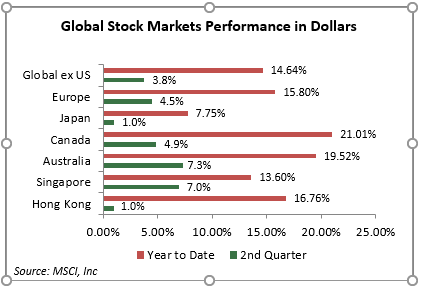 Europe
Stocks in Europe rallied despite a list of concerns that arose in the quarter. Investors bought stocks as interest rates headed lower. Europe is ground zero for negative interest rates. In June, the 10 year German government bond reached a record negative yield of 0.32%. When bonds have a negative yield it is a signal that there is low inflation and it is forecasting the ECB is likely to step in and help stimulate the economy. Low to negative rates are being seen across corporate and other riskier credits in Europe as well. Portugal, which was one of the problem children in Europe just a few years ago, is seeing their 10 year bonds yielding around 0.5%. The case for stocks is interesting but the growing list of concerns is leaving us neutral for the time being. Valuations are below historical average levels but not enough of a bargain to cause us to be more aggressive. The tail risk for European equities is rising with slowing economic data, trade war uncertainty and political risks.
The largest political risk remains BREXIT. Three years after the UK votes to leave the EU we are still sorting out how exactly the UK will break away. There is a final deadline set for Halloween but a "final" deadline has been moved several times before. The risks have increased of a hard BREXIT since our last Viewpoints. Theresa May stepped down as Prime Minister and former London mayor Boris Johnson is the front runner to succeed her. Johnson has been a proponent of BREXIT and has not ruled out a hard exit for the UK. Since the BREXIT vote in June of 2016 the UK stock market has underperformed the US market by 34% and the British Pound has lost 14% against the US Dollar.
Japan
Stocks in Japan have lagged behind other global markets this quarter. The US-China trade war has weighed on the Japanese market as a slowdown in China has hurt some export-oriented businesses in Japan. The Japanese market remains the cheapest of developed markets on both Price to Book and Price to Earnings measures. This has us somewhat optimistic there could be a catch-up trade in Japan. If there is a resolution to the trade war we expect to see Japanese stocks close the gap between their performance and its peers. If a trade war persists we expect Japanese shares to lag. Japan is more focused on cyclical businesses than other markets. The two percent increase to the consumption tax is still set to move forward this October. While this usually causes some market volatility, a positive is Prime Minister Abe has said this is the last increase for the next decade.
Canada, Australia & Asia
Canadian stocks have been the top performing market this year as Canada has largely been insulated from the global trade war. Growth has slowed as there have been cuts to oil output. Concerns over an overheated housing market continue to loom over any discussion of the Canadian market. The Australian stock market was the best performing market this quarter. Aussie stocks have benefited from strong iron ore prices which lifted valuations across the entire sector. Elections saw a pro-business candidate win which also helped support stocks this quarter.
Currencies
The currency markets remained relatively quiet this quarter. The US Dollar weakened against most currencies except the British Pound. The US Dollar may continue to slide as the Federal Reserve looks ready to cut interest rates. Rate cuts tend to weaken the US Dollar by making it less attractive to yield-seeking investors.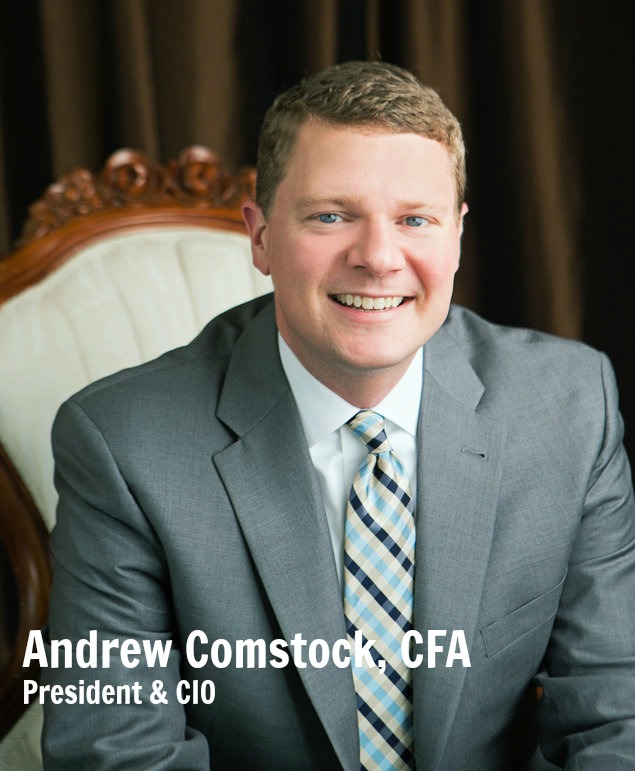 Please contact me at 913-871-7980 or by email to discuss your financial planning and investment management needs. You can sign up for our monthly newsletter here. Follow me on Twitter @CastlebarAM.
Disclaimer: The opinions voiced in this material are for general information only and are not intended to provide specific advice or recommendations for any individual. To determine which investment(s) may be appropriate for you, consult your financial advisor prior to investing. All performance referenced is historical and is no guarantee of future results.